| | |
| --- | --- |
| | VALDIPIERLE |

Valdipierle.

As the title of this page says, here is a brief description of the small valley located at the foot of the homonymous fortress. This page therefore collects the materials and photographs that tell of the splendid valley characterized by the rolling Umbrian and Tuscan hills. In this valley we find the town of Mercatale di Cortona and the Umbrian municipality of Lisciano niccone.
This valley is located at the end of the Niccone valley which takes its name from the stream of the same name. This watercourse originates from Monte della Croce (895 m) with the name of the Bacialupo stream, and then becomes the Niccone stream after the intersection with the provincial road SP35. and it is an alluent that after 21 km flows to the right of the Tiber river at Niccone near Umbertide.



| | | |
| --- | --- | --- |
| | | Roccadipierle home page. |
| | | |
| --- | --- | --- |
| | | Page that tells of Pierle's discovery |
| | | |
| --- | --- | --- |
| | | The valley that takes its name from the Castle of Pierle. |
| | | |
| --- | --- | --- |
| | | Rainbow on the Valdipierle |
| | | |
| --- | --- | --- |
| | | Valley shrouded in fog seen from the fortress of Pierle. |
| | | |
| --- | --- | --- |
| | | The moon rises over the valley. |

The definition of Valdipierle understood as a real valley is well defined ... if with Valdipierle we mean the small valley after Mercatale where the Castle of Pierle is located, then we refer to the area between the Monte della Croce in the north, the Monte Ginezzo, Monte Maestrino and Poggio della Coce to the West, Monte Castiglione to the South and Monte Corvino to the North-East. Mercatale is located at the foot of the valley towards the south-east.

In reality, the term Valdipierle means a much wider geographical area that refers to the territory of the Municipality of Valdipierle which was established by the inhabitants in 1428 under the Florentine government. This entity administered these areas until its annexation to the Municipality of Cortona wanted by the Grand Duke Pietro Leopoldo in 1774.
For about two and a half centuries the citizens of the Valley had their economic and administrative independence with a territory between Pierle, Danciano, San Leo Bastia and the Cerventosa Pass..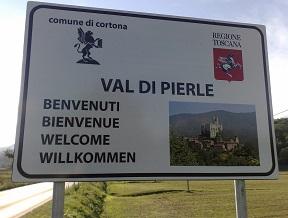 Lastly, it is useful to mention the Provincial Road SP35 of the valdipierle that connects the Valdichiana to Mercatale. This road begins in Cortona with a crossroads with the SP34 road, crosses Pergo and begins to climb after Montanare up to the Poggio della Croce pass, then descends to Pierle then to Mercatale. This is the most beautiful way to reach our Valley.
Along this road, just in correspondence with the boundaries of the territory of the ancient Municipality of Valdipierle, two signs have been placed announcing its beginning.




Last update 14/03/2021