| | |
| --- | --- |
| | THE VILLAGE |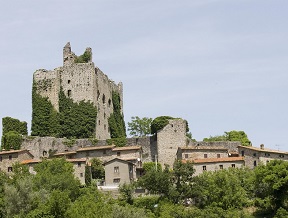 The Rocca di Pierle is a fantastic place to visit because it preserves the vestiges of an ancient medieval castle that still dominates the valley today. Around the walls of the castle there is a small village made up of houses which gives the village a very romantic aspect. This village that today has few inhabitants in the past was one of the most important centers of the valley, then the progressive abandonment of the countryside made Pierle lose much of its importance.

The houses that exist in Pierle today are mostly summer houses that are inhabited a few days a year. The families who remained to live there however constitute an industrious group of people who continue to keep life alive in the village. In the past the village was full of shops and there were even two schools that gathered all the boys who came from the houses scattered in the valley, that is from Cuiano or Borgo dei Vagli.

Many of the shops were leaning against the perimeter walls of the fortress, one next to the other. When the Municipality of Cortona ordered to demolish these buildings because they were not safe, the owners were allowed to build the houses around the fortress. Thus was born the village of Pierle, as we know it today. Until then there were only the small church, the house of the rectory and a few other houses.

The Church of Pierle which is dedicated to San Biagio is a small jewel set in the landscape of the valley. The most important celebrations are the feast of San Biagio on February 3 with the blessing of bread and the feast of the Madonna del Rosario on the second Sunday of October which is celebrated in conjunction with the feast of the Chestnut..

The house of the Canonica has undergone several maintenance works, it is owned by the Curia of Arezzo and has been used for several years as a summer vacation center. Now it has been managed by private individuals who intend to start a hospitality business.

To see one of the most beautiful views of the valley it may be useful to take the road that climbs from Pierle towards Cuiano for a few hundred meters. In this way it is possible to admire the fortress that stands out on the open space of the valdipierle. It is really worth it.

| | | |
| --- | --- | --- |
| | | Roccadipierle home page. |
| | | |
| --- | --- | --- |
| | | Page that tells of Pierle's discovery |
| | | |
| --- | --- | --- |
| | | Description of the village of Pierle. |
| | | |
| --- | --- | --- |
| | | Getting to the village of Pierle. |
| | | |
| --- | --- | --- |
| | | The little church of Pierle. |


Last update 12/02/2021