| | |
| --- | --- |
| | THE LITTLE CHURCH OF PIERLE |

The little church of Pierle is a little gem and is an integral part of the village's landscape. The view from the churchyard makes it one of the most beautiful churches in the valley. Also for this reason many young couples decide to get married in this place. Little is known about how the church was built before 1505, when the church was restored from scratch in its present form and was consecrated by Bishop Soderini to Saints Biagio and Donato. A second restoration was carried out in 1629.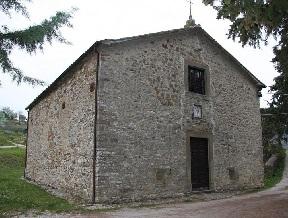 Inside the church we find a fresco representing the Pope San Leone I Magno with the Saints Deacons Lorenzo and Vincenzo. The painting bears the following inscription `` The community of Pierle in honor of Saint Leo I of this town for his devotion ''. This writing has provoked a lot of discussion among some local scholars about the unproven possibility that this saint came from the Pierle area. Up to 1325 the parish of Pierle was associated with the dioceses of Perugia or Città di Castello. After this date the parish was included in the newly established Diocese of Cortona.

In 1625 the church was elected a Prioria with the appointment of the Prior directly by Florence. This was a very unusual feature, because the appointment of the Prior was not made locally, neither by the Casali, nor by the Marquises del Monte, nor by the Bishop of Cortona, but directly from the capital.
In 1573 there is evidence that the the parish of Pierle had been united with that of the Val di Vico. Very interesting inside the church is the baptismal font which bears the coat of arms of the Marquis del Monte family and the coat of arms of the Municipality of Pierle which was established in 1428 by the inhabitants of the valley.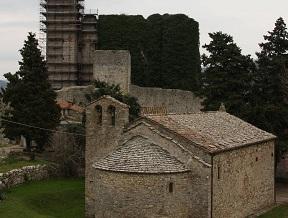 The church today refers to the parish of Mercatale, and masses are celebrated on a monthly basis. On February 3, the Feast of San Biagio is celebrated to which the church is dedicated. Every year on the second Sunday of October in Pierle the Feast of the Madonna del Rosario is renewed, with the celebration of the Holy Mass and the procession through the streets of the village.
Every day the church greets us at noon with its sweet tolls of bell.


Last update 21/02/2021