| | |
| --- | --- |
| | A 65-METER CRANE |

A 65-meter crane for the Rocca di Pierle

Beginning of the safety works of the north tower at the Rocca di Pierle. Despite the unfavorable weather, on May 19, 2010 work began to make the Rocca di Pierle safe.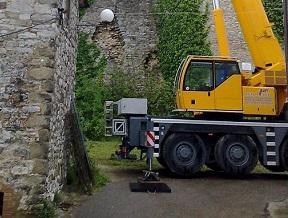 For several days all the equipment had been ready for the start of the works. Above all, we expected the good weather to lend a hand, so it was not and we left the same. It is actually a 50-meter crane to which a 15-meter Extender has been added.
Without particular difficulty, the large vehicle reached the square in front of the North West turret. There it was positioned so that the arm entirely covered the North West side and was finally leveled and settled. Already at the end of the morning it was possible to transfer a first load of construction material inside the walls. At noon heavy rain interrupted the work.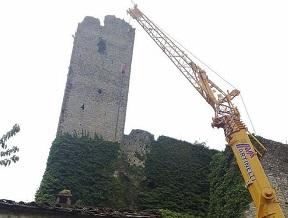 The use of a 65-meter wire crane allows you to speed up the start-up work on the construction site and allows you to work with greater safety. With a basket, inside which two operators are placed, it is possible to reach the shabby top of the tower and remove all the moving stones that could fall.
Once the unsafe stones have been removed, proceed downwards by examining all sides of the tower. Once the inspection has been completed, the ivy that wraps around the entire perimeter of the fortress will be removed for a height of about 20m.At the end of this ivy cleaning phase, another day will be used to tranship the pipes of the scaffolding and all the machinery that must enter the cantire, which will remain confined within the walls of the fortress.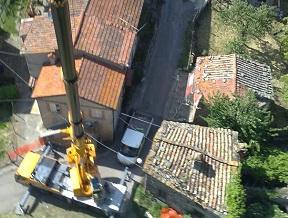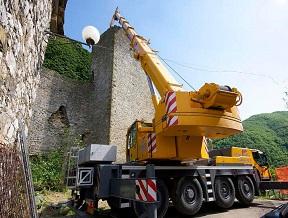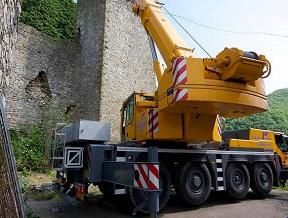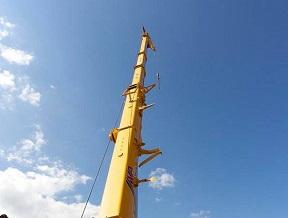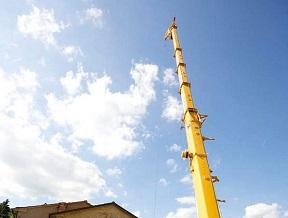 Last Update 19/05/2010